---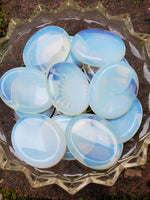 Opalite is the feel good stone! Brings calming energy to the body and facilitates light-heartedness. Let your inner light shine!
Opalite is the only man-made stone we carry just because it is so unique! It is made from opalescent glass that is meant to resemble certain varieties of Opal or Moonstone.
These are approximately 2" by 1 1/4" and have an indent on one side for rubbing. Price is per palm stone.