---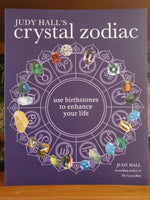 This comprehensive guide describes the crystals linked to each sign and explains how they can be used to enhance self- understanding and personal growth. Crystals can be used for profound soul growth, to overcome challenges or for guidance on everyday decisions.
For each astrological sign, there are past-life patterns to be dissolved and wisdom to be regained. The use of appropriate crystals facilitates this process. In addition to explaining the links between crystals and both sun and moon signs, 
Judy Hall's Crystal Zodiac
 gives instructions for laying out and working with a crystal zodiac mandala.