---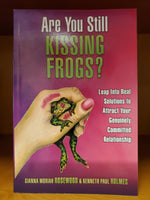 Finding the love of your life isn't luck; it's a creative, insightful process. In this humorous and engaging guide, learn to leapfrog past failed relationships to attract a truly available partner. A relationship whisperer and former frog kisser, Gianna Rosewood never gave much thought about what she wanted and truly deserved in a committed relationship. Seasoned with experience, Rosewood helps her clients discern how to successfully attract a truly available partner.
In Are You Still Kissing Frogs? Leap into Real Solutions to Attract Your Genuinely Committed Relationship, readers will learn how to implement Rosewood's solutions. For starters, she feels singles should make a love list of their expectations in a partner and themselves. Yet many carry this love list in their heads, not in their purses or pockets where it can serve as a physical check on their ego. By using the book's methods, readers can readers can learn to tap into their own inner beauty in order to naturally attract their ideal mate. They will discover learn the three-step process, twenty-one reasons the love list of expectations in a mate may not be working, and seven relationship secrets to cultivate and sustain unconditional love.
Through reading the stories about Rosewood and her clients' journeys readers can develop their own framework to find a companion who is truly available for a lasting relationship.